Picture is for illustration purposes only
Fulfil your Security Bond Requirements
In Singapore, all employers are required to pay a security bond deposit of $5,000 for each non-Malaysian Work Permit Holder – the bond is not required for S pass holders.
The serves as a reminder for the employer and foreign worker to act according to the Work Permit conditions. The bond is required for the employed worker to enter the country and also the renewal of their work permit .
This bond deposit can be covered with a Foreign Worker Bond policy.
Key Benefits of a Bond Policy*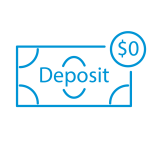 No Upfront Deposit Needed
Replace cash deposit with Foreign Works Bond policy
Hassle Free
Bond policies are submitted to MOM automatically
Affordability
Convenient and affordable to purchase
* Terms and conditions apply
Ensure your Bond Policy suits your needs
Many insurers are providing foreign worker security bond insurance, each with its own coverage and key benefits.
As an insurance broker, we can help compare quotes to find the best Foreign Worker Bond policy for your needs.
We'll take care of your bond requirements for you.
Critical Features Of Foreign Workers Bond
The foreign worker security bond insurance covers inpatient care, outpatient treatment and day surgery, including hospitalisation expenses for conditions that may or may not be work-related.
It is important to note that it also covers pre-existing medical conditions for the non-Malaysian worker. And should provide for any hospitalisation cost for work-related conditions locally or overseas.
Depending on the plan or coverage, there might be some variations between critical features. Contact us to find out more about the suitable plans and insurance requirements for your company.
Consult Us to find the right Bond Policy today
Frequently Asked Questions About Foreign Worker Bond In Singapore
Sources:
1 www.mom.gov.sg/passes-and-permits/work-permit-for-foreign-worker/sector-specific-rules/work-permit-conditions
2 www.mom.gov.sg/eservices/services/wp-online-for-businesses-and-employment-agencies
3 www.mom.gov.sg/passes-and-permits/work-permit-for-foreign-worker/notify-mom-of-changes#if-a-worker-goes-missing
4 www.mom.gov.sg/-/media/mom/documents/services-forms/passes/fw_sb_form.pdf