Episode #1: How much are you paying for your Mazda Insurance?
With over 30 insurance companies offering car insurance in Singapore, you'll have plenty of options. While there is no best insurer for everything, each definitely has their own strengths in certain brands.
Let's suppose you are buying insurance
for a brand-new Mazda 3(1.5L).
*Prices presented in this article are based on the above sample profile, and premiums may vary according to each individual's profile
Purchasing Insurance from an Online-Insurer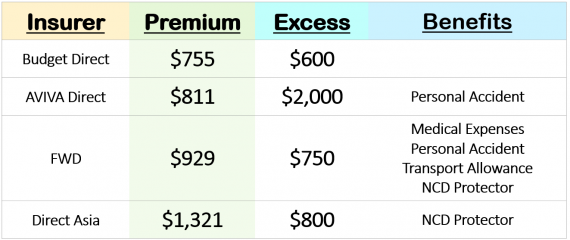 *All prices presented are nett of all promotions and includes GST
With the advent of Online-insurers, there are now more options for consumers. Online-insurers tend to ask more questions in the quotation process, i.e. estimated annual mileage, purpose of usage of vehicle, declaring named drivers.  It is not clear how any deviations from these answers would affect your policy in the event of a claim. For example, if it was found that your actual mileage was 11,000 km that year, instead of the 10,000 km that was declared, would your claim still be valid?
Purchasing Insurance from a Broker
*All prices presented are nett of all promotions and includes GST
General Insurance brokers represent your interests and source quotes from a wide range of insurer partners that offer policies with comprehensive benefits and well-established claims processes. It's good to note that the prices they offer are comparable and sometimes more competitive than that offered by the online-insurers! Let's look at some of these:
Etiqa and HL Assurance were found to be among the most price competitive among all insurers, both at prices under $800 – Cheaper than online insurers!
AXA, a large local motor insurer rounds up the overall top 5 in terms of pricing, and with the lowest excess of $300
MSIG, Sompo and NTUC Income also offer competitive pricing, with attractive benefits such as Transport Allowance, and NCD Protector
If you're purchasing a car or looking to renew your car insurance, you might want to get an insurance broker to help you. You could then be looking at a premium of $800, complete with extensive benefits.
Want to save more? Opting for an 'Insurer Authorised Workshop' policy could result in a further savings of up to 20%! These workshops uphold stringent standards and use original parts, ensuring that your warranty is not jeopardised.
Disclaimer: The information in this article is accurate as of 6 November, 2020 unless otherwise stated. Whilst we endeavour to keep the information accurate and updated, g&m makes no representation or warranties for the accuracy of the information in this article or content of any websites which may be linked. This article is for informational and promotional purposes only; it does not constitute advice or recommendation and does not take into account your own individual circumstances. The information in this article may not be updated and you should always refer to the relevant Policy Wording and insurer. In the event of any inconsistency, the Policy Wording and/or information from the insurer shall prevail.